BY Ritu Shah
23 Oct 2022
Diwali is the biggest festival in India, where families come together to celebrate the victory of good over evil. It is extra special for kids since they get to enjoy and have fun with laughter, joy, and gifts. 
If you are looking to involve your kids in the festivities and preparations, we have some fun ways you can do that.
Cleaning the House and Decorating Their Corner
Most of us do a deep cleaning of the house before Diwali. You can get your kids on board by allotting them simple tasks like
Sorting old stuff that needs to be recycled like newspapers, magazines, and old bottles

Dusting and cleaning their bookshelves and toys

Helping in putting up the curtains

Cleaning the shoe rack
You can also allot space in the house which they decorate as per their choice and style. It can be their bedroom, their study space, or any corner of the house. Just make your not-to-do instructions very clear!
Decorating Diyas and Creating Diwali Crafts
Diyas look amazing as Diwali decorations. Buy some clay diyas from the local market or roadside vendors. Give water, acrylic, or poster paints and some paintbrushes to your kid. Lay a newspaper and let them go creative decorating as they want to. You will have bright and beautiful diyas for your balcony and doorstep. 
Reading Stories and Books on Diwali
The festival of Diwali has many mythological and historical stories connected with it. You can have a storytelling session on Rama-Sita, Narakasura, Lakshmi Avtar, and Amrit Manthan among others. You can also give children books on Diwali. Some of the popular books are:
Making Rangoli Designs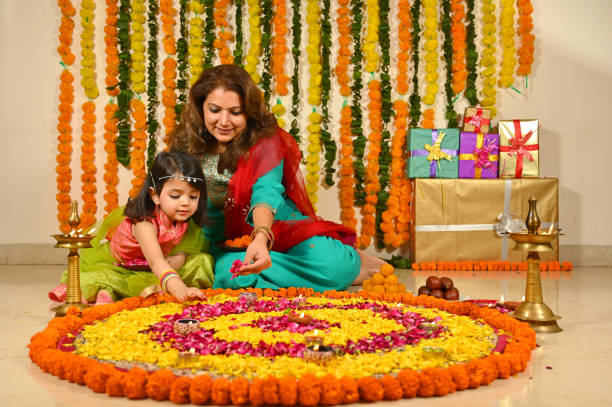 Kids love to participate in rangoli making. Younger kids can help in filling the designs with colours. You can give them stencils that they easily use to make design outline. Older kids can draw their designs and decorate them with colours, flowers, and diyas. 
Preparing Sweets and Desserts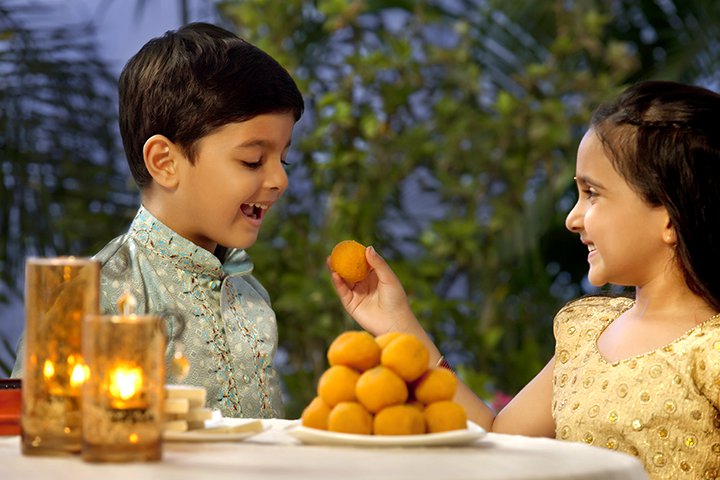 No festival is complete without desserts and delicious sweets. You can make it extra memorable by taking the help of your kid in preparing a homemade sweet dish. It can be any recipe you love or you can go online and search for an easy recipe as well. The kids can help in collecting the ingredients, preparing, cooking, and serving. Your guests and family will love the extra love and effort your kid has made.


Read about Easy Dessert Recipes That Even You Kids Can Make
Decorating the Puja Thali
The puja thali is an integral part of the rituals. What better way to involve your kid in your traditions? Give them the puja thali to decorate with instructions on the items that should go on the plate. They will feel important and included. Make sure they understand the importance of washing their hands before starting on this task.
Putting Together Give Away Boxes
Diwali is also the time to show kindness, empathy and generosity towards others. Apart from family, you also have gifts for people who assist you daily like house help, driver, and other support workers. Involve your kid in making their gift boxes and explain the need to spread festive cheers.
Also engage them in making give-away boxes that you can donate to local charities, orphanages, shelters, homeless people, and NGOs. You can ask them to put some of their old toys, books, and clothes that they no longer use.
Creating Greeting Cards for Elders
Getting handmade greeting cards from kids in the family is a special feeling. Give them some art paper, colours, and craft decorations and let them create a personalized greeting for the elders at home. The grandparents will love to read the touching and heartfelt messages from the little ones.
Dressing Up
The festival is all about decorated houses and dressed-up people. Kids have their likes and dislikes about how they want to dress up. Engage them in shopping for their dresses (online and offline), accessories, and shoes. On Diwali day, take some time out to give a quick hair oiling and head massage. Set a time for a pre-dressing care routine that includes bathing, moisturising, hair styling, and light make-up if they want.
Safety Tips - Buy clothes made from fireproof fabric. Avoid inflammable materials like acrylic, rayon, and linen. Avoid dresses that have intricate buttoning up. The clothes should be comfortable and also easy to remove in case of any mishap.
Lighting Up
Firecrackers are major pollutants and cause immense damage to our environment. That is why it is now banned in many states or allowed only for a few hours. Even green firecrackers are not entirely safe. Hence, you should avoid burning firecrackers.
But you can still give a sound and light Diwali experience to your kids.
If there is a firework show to be telecasted on TV, catch it with your family and kids.

Have normal air-filled balloons in huge numbers. Give your kids a lighted incense stick, and let them pop the balloons with it. Take full caution so that they do not burn themselves or others. You can hold the stick with them if they are too young.

You can also allow the lighting up of some sparklers. Do it on an open balcony, terrace or ground.
Safety Tips - 
Keep a bucket full of water or a fire extinguisher handy, so that you can use it in case of any untoward incident.

Do not leave the kids with matches, candles, or diyas.

If there are electric lights, keep your kids away from the wires, cables, and switches.

Keep doorways clear of diyas or electrical lights, so that the young ones do not trip and fall.