BY Rashmi Jalan
08 Jul 2022
Getting kids to eat healthy food is a real struggle for parents. Kids are exposed to a variety of food, most of which lack nutrition or are full of sugar and empty calories. Packaged food has bought another challenge since it makes cooking easier but may not be high on healthy ingredients. 
If you have a fussy eater, we have some help for you. Following are the 10 clever hacks that will make your kids eat more healthy food.
Add Vegetables in Recipes
Making kids eat veggies can become a task for you. However, there is a workaround to include vegetables in their daily diet. You can add veggies in puree, grated, or small diced form in many dishes. The kids will not be overwhelmed with the taste and also get some much-needed vitamins and minerals in their bodies.
Add pureed spinach or leafy veggies to curries (both vegetarian and non-vegetarian).

Use grated gourd, radish, and cauliflower to parathas and pooris

Add mashed or pureed pumpkin to pancakes or sweet fritters

Use small diced carrots, capsicum, and onions in idli and dosa batter
Introduce Sauce, Chutney, and Dips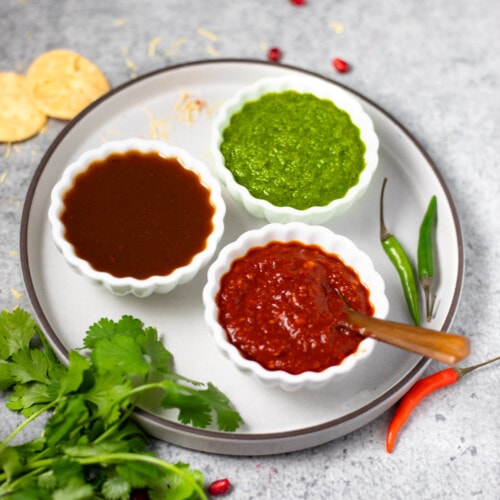 Dips, sauces, and chutneys make food interesting. If your kid is bored with the same old sandwiches, parathas, and burgers these side accompaniments will become your saviour. You can easily make chutneys and dips at home with the help of recipes found online. At any time, make and store 2 to 3 of these. Your kids are sure to love them. Dips, sauces, and chutneys are also a great way to introduce different tastes to your kids.
Make Snack Boxes
Kids love snacking. Usually, they consume junk food as snacks in form of chips, cookies, samosas, and street food. You must make snack boxes which are replenished timely. These boxes should contain their favourite fruit, dry fruits like raisins, almonds, and makhana, and homemade snacks like mathri, muffins, cereals, rice puffs balls, or laddoos. This way, you will have more control over what they eat, and a snack box will always be handy for them.
Here are 5 Summer Snacks Your Kids Will Love
Involve the Kids in Cooking
Perhaps the best way is to involve your kids in cooking. They will feel more ownership of the food they are eating. For little ones, you can take their help in mixing, taking ingredients out, and some non-flame cooking. For the bigger kids, you can get them involved in menu planning for the week, buying groceries, cutting, and cooking. They might surprise you with their culinary skills.
Here are 6 Easy Dessert Recipes That Even Kids Can Make
Reinvent Breakfast
Add a twist to the breakfast once a week. It will make the meal much more interesting to the kids. It can be leftover pizza from dinner, a chicken sandwich from the leftover kebabs or fried chicken, or even homemade dessert. You can also allow outside food like samosa chhole, jalebi dahi, or any other delicacy that they like on some Sundays. Or make a picnic in the park out of it.
Desserts at Home
Most kids have a sweet tooth and love to binge on sugary food and drinks. To curtail that, you can easily make desserts at home. There are many recipes online which are simple to prepare. Bake muffins and cupcakes at home and add fruits to them. You can also make fruit pops, custard, fruit cream, and halwa at home.
Experiment with What Your Kids Like
Kids usually have favourite foods. It is a smart choice to experiment with their most favoured recipes. For example, if they like noodles or pasta, you can easily add veggies. If they don't like veggies, you can puree different vegetables and introduce them into the sauce. If they like paratha, you can make a variety of stuffing for it. You can also use grated vegetables, or knead cooked dal in the dough itself. This way you can introduce healthy food items in their daily meals.
Don't Store Junk Food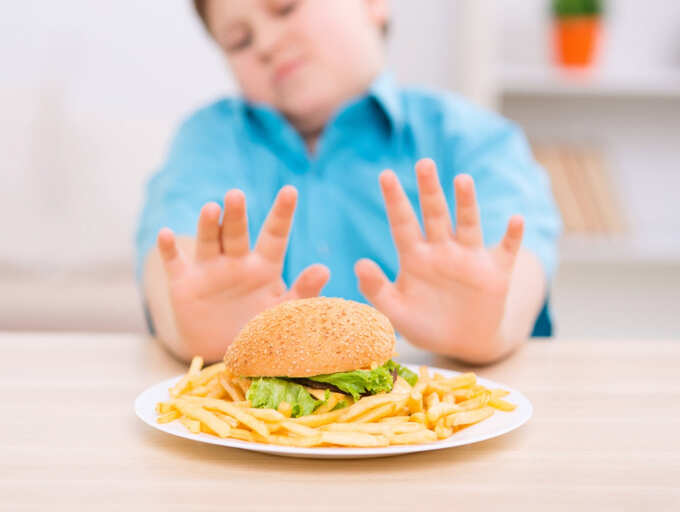 Many people buy and store packaged junk food like chips, candies, soft drinks, and other snacks. This encourages the little ones to eat unhealthy things since they have easy access at home. It is a good practice not to buy junk food in advance. It will also help you and other grown-ups to reduce consuming such food.
Make a Weekly Menu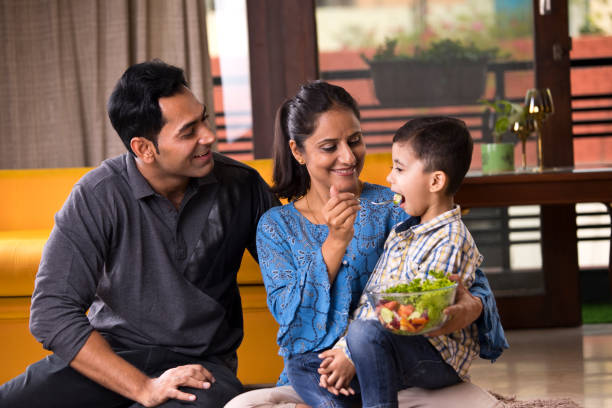 Create a weekly menu and display it in a prominent place like on the fridge. It will make planning for grocery and cooking easier. Kids will know beforehand the dishes they will get to eat. You can give your kids the freedom to put on 2 or 3 dishes of their choice per week. It will keep them more engaged.
Lead by Example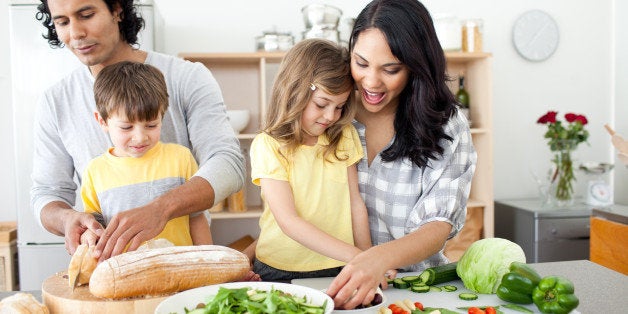 Children tend to follow what parents do. So if you want your kids to eat good and wholesome food, you will have to lead by example. The best way is to make the same dishes for everyone at home. Include grains, vegetables, fruits, nuts, and water in your daily consumption. Lay off the colas, energy drinks, and chips otherwise your kids will pick up unhealthy eating habits from you.
Eating healthy food should not become a stress factor for you or the kids. Remember that nutritious food does not need to be elaborate all the time. Do keep in mind the likes as well as dislikes of your kids. Do not force your tastes and choices upon them. Being mindful will establish a robust relationship with food. Continue offering healthy and delicious food and your kids are sure to pick them up.