BY Ritu Shah
06 Sep 2022
If you have a school-going girl, then your mornings involve making her hair into a style that holds throughout the day. Whether your little girl has long or shoulder-length hair, you must master some hairstyles. Worry not, because we have some easy hairstyles that you can do very quickly.
5 Easy Hairstyles For Your Little Girl
Pony Tails
It is the easiest hairstyle for any length of hair that can be collected and tied with an elastic band. There are many ways to do a ponytail. We are showing you the easiest ones, which you can do under 1 minute.
High Pony - A very popular style among teenagers, you can also make a high pony for your little one. 
Comb the hair picking up the entire bunch towards the top of her head.

Tie the pony with a holder or band.
Side Pony Tail - Another version of the ponytail, the side pony has a glam factor to it. Your kid will look like a posh mini-diva in this.
Comb the hair so that the entire bunch is at one side.

Make the pony at the nape of the neck.

Tie the pony with a holder or a band.
French Braids
French braid looks very neat and holds up throughout the day. Although it looks difficult, you only need a bit of practice and some patience from your little one. With 3-4 practice you can easily master this.
Take a bunch of hair from the top center of the head. 

Make a few rows of traditional braid.

After 3-4 rows, start bringing in other pieces of hair every time you cross over the center.

By the time you reach the nape of the neck, you should have all the hair in the braid.

Make a regular braid after that till the end of the strands and tie with a band.
You can create quite a few combinations with french braid. 
Section the entire hair in two parts as pig-tails and create two separate french braids on either side of the head.

Instead of braiding after reaching the nape of the neck, you can just tie the leftover hair in a ponytail.

While braiding, instead of bringing the hair over the center, you can also take it underneath the center. You will have a reverse french braid. It is also called a Dutch braid.
Top knot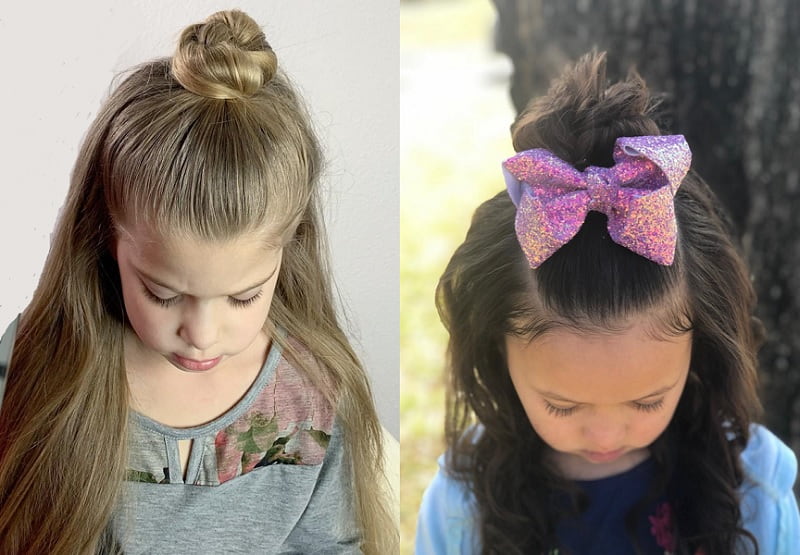 The top knot is a 1-minute hairstyle that you can do when you are running late. You can do a simple top knot or go for a braided knot.
Simple top knot
Put your kid's hair in a high ponytail.

Twist the hair into a bun.

Secure the bun with a hair elastic at the base. Add bobby pins if required to make the knot more secure.
Braided Top Knot
Make a pony at the crown of the head.

Leave a chunk of hair at the base, depending on how thick you want the braid to be.

Twist the pony into a neat or messy bun and secure it with a band or elastic.

Braid the leftover hair and twist it around the bun.

Secure it with bobby pins.
Double braids 
There are many styles that you can do with two braids on either side of the head. The easiest one is of course simple pigtail braids. Some other trendy hairstyles that will not take a lot of time are tied-up braids (also called milkmaid braids) and halo braids.
Tied-up braids (milkmaid braids)
Make two pigtail braids just behind the ears.

Take one braid and pull it over to the other side and secure it with bobby pins.

Similarly, take the other braid and pull it either over or under the 1st braid. Secure this with bobby pins.

Tuck the ends of each braid inside.
Half Halo Braids
Take a small bunch of hair at one side and weave it into a braid.

Secure the end with a hair or elastic band.

Repeat the same on the other side of the head.

Take both braids and secure them together with a band just below the crown or above the nape of the neck.

Once you have positioned them together, remove the elastic and combine the braids.

Make a new braid from the meeting point and secure the end with a band.
Pigtail Buns
Buns are easy 15 seconds hairstyles, and they look fabulous on little girls. Instead of the classic bun at the back of the head, you can do two little buns on either side of the head.
Part the hair at the center and make two pigtails on both sides.

Wrap the pony around the elastic band to make a bun and secure it with pins or a sift band.

Do it on both sides.

If your kid has long hair, you can also braid the pigtails before making the buns.
Some Styling Tips For Your Kid's Hair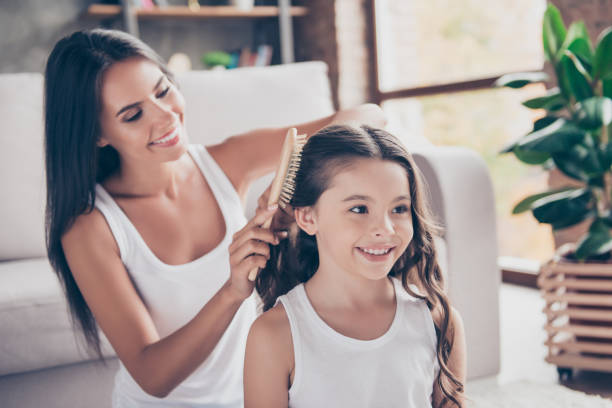 Is your kid fussy while getting their hair done? Keep in mind the following points and both you and your kid will have an easier time.
Always detangle your kid's hair before making any hairstyle. 

Use a wide-tooth comb for doing so. 

If their hair tends to tangle easily, you can use a kid-friendly hair detangler serum or lotion.

Use soft and anti-tangle elastic bands or rubber bands. 

Give them an oil massage using a kid-friendly and natural

hair oil

once a week.

Wash their hair at least twice a week for a healthy scalp and hair. Always use a shampoo free from harmful chemicals and toxins. You can check out

Cocomo Shampoo (with conditioner)

for high-quality and pH-balanced hair wash for your little one.

Let their hair dry naturally.

Use as few hair products like hair dryers, hair spray, and hair gels as possible.
Making new and different hairstyles can seem like a challenging task. However, the above hairstyles are simple to do and with 4-5 times of practice, you will become an expert. So, try them out and see your little girl looking cute with various hairstyles.