BY Ritu Shah
04 Apr 2022
In summer, your kids need food that is high in water content, boost energy, and is light on the stomach. Seasonal vegetables and fruits are packed with nutrition, water, and taste. We have some lip-smacking recipes for summer snacks that your kids will love to have again and again.
Fruit Pops
A refreshing and cool snack, a fruit pop is a healthier option than ice-creams.
Blend 1 cup of chopped and de-seeded watermelon and 10 strawberries to make a smooth puree. Do not add water. Add sugar if required.
Place a thinly sliced kiwi in the popsicle mould.
Pour the blended mixture up to 3/4th of the mould and add a few chopped grapes.
Freeze the popsicle after covering them.
Take ¼ cup coconut milk and add powdered sugar and mix them well.
Take the popsicle out from the freezer after 30 minutes and pour the coconut milk mix.
Cover and freeze now. The fruit pops will be ready after 4 hours.
Tip:
You can use a combination of watermelon, orange or lemon as well. To make a creamy fruit pop, you can use a smoothie made from mango or banana in the mould and freeze.
Veggie Wraps
Veggie wraps are wholesome and filling summer snacks, and you can also pack them for tiffin lunch.
For the dressing, you can use hung curd, cream cheese, or mayonnaise. Add minced garlic, chat masala, cumin powder, salt, and pepper to salt. Now mix everything well.
Shred 1 cucumber and 2 carrots, and mix them with ½ cup of finely chopped cabbage, 2 thinly sliced onions, and 1 finely sliced red or yellow capsicum.
Add the vegetables and the dressing into a big bowl and mix them well. Taste and adjust seasoning to taste. The filling is ready.
Take a roti and places 1-2 lettuce pieces in the centre, and add one or two spoons of the creamy filling.
Add some grated cheese and roll the roti to make a wrap.
Tip: You can use green mint chutney spread over the roti to make a mint flavoured version. You can also choose vegetables of your choice for the filling. Baked potatoes, boiled corn, cooked mushrooms, or any vegetable of your choice are great options.
Fresh Summer Salad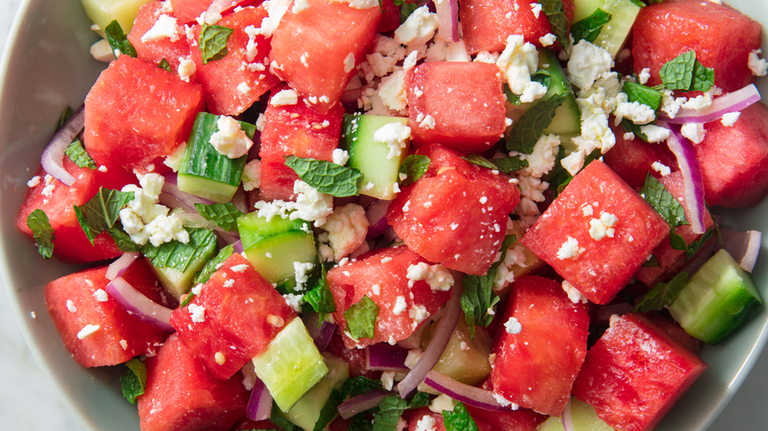 Kids generally avoid salads. However, this refreshing and easy to make salad recipe will make them come back for more.
Take 6 cups of watermelon cut into small cubes. Ensure there are no rinds.
To prepare the dressing, mix 4 tbsp olive oil, 2 tsp lemon juice, salt, and pepper in a bowl.
Put the watermelon cubes in a large bowl and add the dressing. Also, add some chopped mint leaves.
Toss gently till the cubes are covered in the dressing completely.
Add some crumbled feta cheese and fold it gently in the salad.
Serve the salad immediately.
Tip: You can experiment by adding cucumbers to the salad as well. This salad should be served fresh.
Dudhi Halwa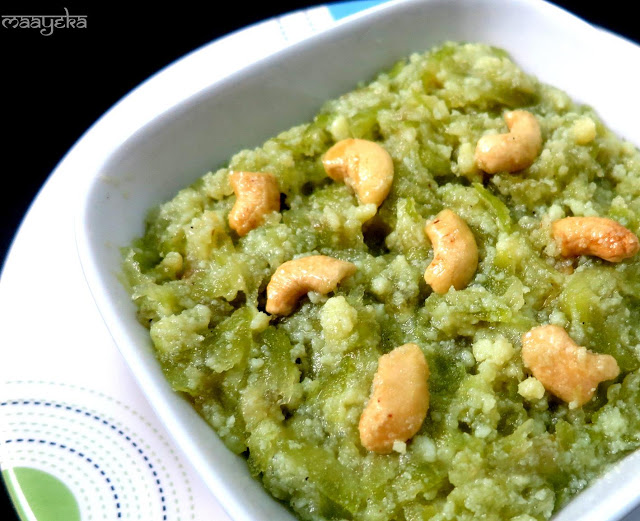 A nutritious sweet dish, dudhi halwa is ideal for summer since dudhi (bottle gourd or lauki) has high water content. The dish is good for boosting energy as well.
Heat ghee in a kadhai or thick-bottomed pan. Add 2 cups of grated dudhi and roast it till it starts drying.
Add 2 cups of milk (preferably full-cream milk) and stir till the milk reduces to half.
Add jaggery or sugar as per your taste. Put some almonds or cashew nuts if you want.
Cook for 5 more minutes or till the ghee starts to separate. The contents will thicken as well.
Lastly, add a pinch of elaichi powder and stir the mixture well.
The doodhi halwa is ready. You can serve it hot or cold.
Tip: You can use condensed milk if you are short on time. Adjust sugar as per the sweetness of the condensed milk.
Mango Smoothie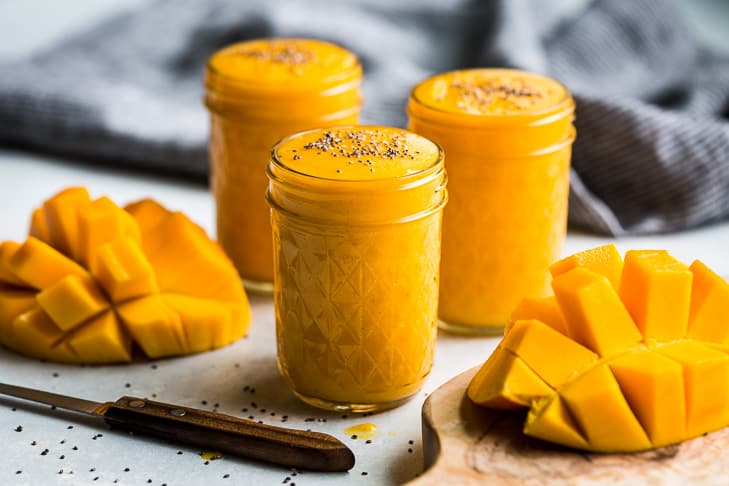 Smoothies are great favourites of kids and adults alike. The drinks are filling and refreshing. The following mango smoothie recipe is a simple and delicious one.
Take a pulpy mango, and slice it into small pieces.
Put in a blender, add 1 cup of fresh curd (to 1.5 cups of chopped mangoes), and honey as per your taste.
Add 2-3 pinches of cinnamon powder and blend to a smooth consistency.
Serve it fresh or chilled.
Tip: You can also use milk instead of curd for the smoothie. You can add other fruits like papaya and banana to the smoothie. While mango goes well with dairy (milk or curd), other fruits do not. Add water instead when using papaya, banana, or any citrus fruits.
Foods your kids should avoid in summer
There are some foods which everyone, especially kids, should avoid having. These are heavy on the gut and increase body heat.
Spicy and Fried Food - Spicy and fried food also generate heat and are heavy on the gut. They also cause dehydration in the body. Avoid street food, samosas, pakoras, and other such fried items.
Soft drinks - The carbonated drinks have empty calories, high levels of sugar, and other additives harmful for the kids. Instead, give them fresh fruit juices, buttermilk, jal jeera, aam panna, and lemonade. You can also add a spoon of soaked sabja (basil seeds) to their juices for energy.
Ice-creams - It seems counterintuitive to not eat ice creams in summer. Ice-creams are loaded with sugar and dairy, both of which are not very good for digestion. Instead, offer them homemade ice-creams, fruit popsicles, and fruit yoghurt.
Rich non-vegetarian - Non-veg food generates heat and also takes time to digest. While you can eat non-spicy chicken and fish, avoid red meat with rich and spicy recipes.
Excess Mangoes - Mangoes are a summer fruit, and kids love them. However, they are very rich in natural sugar. Over-eating mangoes can increase body heat, cause skin infection, and upset stomach.
We are sure your kids will relish these super yummy snacks. Since the summer season is also the time of germs and infection, hand hygiene is essential. Make your kids wash their hands with a good quality hand wash before eating. And try these recipes for a fun-filled summer snacking!