BY Ritu Shah
18 Oct 2022
Diwali is the biggest festival celebrated by Hindus the world over. Here are some fascinating facts about Diwali.
Interesting Facts About Diwali
Diwali is also called

Deepavali

which means rows of lighted diyas or lamps. That is why we also call it a festival of lights.
It is celebrated as a day when

good wins over evil

. It is believed that Lord Rama after defeating King Ravana came back to his kingdom Ayodhya with his wife Sita and brother Lakshman. The people of his kingdom lit diyas to welcome them on this day.
It is celebrated in

many countries

apart from India. These include Nepal, Singapore, Fiji, Malaysia, Mauritius, Suriname, Guyana, Trinidad and Tobago, and Sri Lanka. It is also now celebrated in other countries where there is a large Hindu population like the USA, United Kingdom, Canada, and Australia.
Diwali is also celebrated by people of

other religions

like Jains, Sikhs, and Buddhists.

Jain Diwali is celebrated in Jainism as the day that God Mahavira attained nirvana or spiritual liberation.

Bandichor Diwas (Liberation Day) is celebrated by Sikhs on this day to mark the release of Guru Hargobind from prison.

Ashok Vijadashmi is celebrated on this day by Newar Buddhists to mark the day King Ashok converted to Buddhism.
Diwali is a

5-day festival

and falls in the Kartik month of the Hindu calendar. Every day has some significance to it:
Dhanteras

(Day 1) - It is the birthday of Lakshmi and Dhanvantri. Lakshmi is the goddess of wealth and prosperity and Dhanvantri is the deity of Ayurveda. On this day, people clean homes, offices, shops, and other places of work. They also buy gold and silver jewellery and kitchen utensils.

Naraka Chaturdasi

or

Chhoti Diwali

(Day 2) - this day is celebrated to commemorate the victory of Goddess Kali and Lord Krishna over the demon Narakasura. It is particularly celebrated in Nepal.

Lakshmi Puja

or

Badi Diwali

(Day 3) - This is the main day of Diwali when homes are decorated with lights, flowers, and rangoli. People wear new festive clothes and worship Goddess Lakshmi and Lord Ganesha. They exchange gifts and sweets and burn firecrackers. 

In the eastern state of Bengal, this day is celebrated as Kali Puja, with the worship of Goddess Kali.
Padwa

(Day 4) - this marks the beginning of the new year in the Hindu calendar. People worship the tools, pieces of equipment, and instruments with which they work. In some parts of India, people also celebrate it as a day of love between a wife and a husband.

Bhai Duj

(Day 5) - The last day is celebrated as Bhai Duj and emphasizes the loving bond between siblings.
Values Promoted by Diwali
Kids can learn and imbibe many values from the festival of Diwali. It is a time of being respectful, polite, generous, kind, happy, and humble. Some of the major values that this festival teaches everyone is:
Good Wins Over Evil - Diwali celebrates the victory of good over evil and teaches that good deeds always win over negativity. Kids learn that goodness is rewarded and evil loses in the long run.
Helping at Home - During this festival, everyone needs to help at home and do some chores. It involves cleaning, dusting, putting up new curtains, and decorating the home. Kids love to help in making colourful rangoli at home. The beautiful rangoli designs make the spirit more festive.
Family Bonding and Togetherness - All the family members come together to celebrate this festival. Kids get to meet their extended family members and bond with them. Interacting with grandparents, uncles, aunts, and cousins strengthens their socializing skills.
Kindness and Gifting - Diwali is the time to be generous towards others, especially people who are not so fortunate. People donate clothes, toys, and other necessary items to shelter homes, orphanages, the needy, and NGOs. 
Diwali is also known for exchanging sweets and gifts with relatives, friends, and neighbours. 
7 Fun Facts About Diwali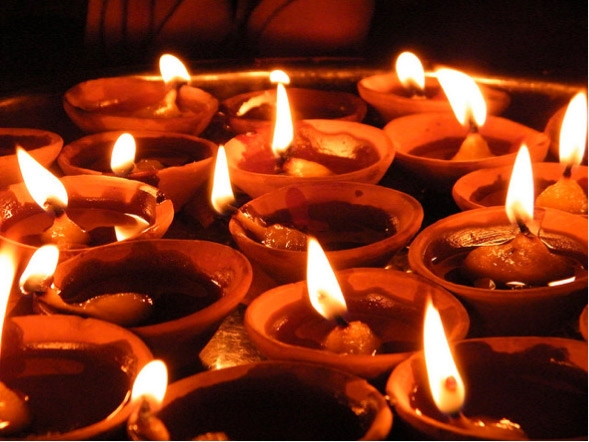 Main Diwali happens on a no-moon night (or amavasya). 

On the day of Dhanteras, around 30 - 50 tonnes (1 ton = 1000 kgs) of gold jewellery is sold every year.

Every year, people burst many thousands of kilograms of firecrackers. Owing to a lot of pollution due to these, people are moving to either use green firecrackers or avoid them altogether.

The rangoli powder is made from turmeric, vermillion, flowers, and dyed rice flour. 

People also eat and exchange sweets on this day. Popular ones are laddoos, chhena sweets, barfi, kaju katli, kheer, and khoya-based sweets.

Diwali is also the biggest shopping time in India and also the largest discount and sale season.

Diwali Mela or fairs are conducted in almost every city and town throughout India.
Tips To Have  a Safe Diwali
Since the festival involves electricity, fire, and firecrackers, it is important that you take adequate safety measures. Follow these tips for a safe Diwali:
While dressing up is an integral part of Diwali, make your kids wear comfortable clothes. Dresses that are cramped, confining or scratchy will make your kids fretful and unhappy. Nowadays, many kid clothing brands are conscious of making comfy clothes.

While buying clothes, it is best to check for flame-resistant labels. Avoid buying flammable fabric like acrylic, rayon, pure untreated cotton, and linen. Instead, opt for fabrics that do not catch fire easily.

Firecrackers cause immense environmental pollution and are banned in many states. It is best if you can avoid them completely. But if not, opt for sparklers. Kids love to wave them around and they also pose less danger. Avoid loud and chemical-laden firecrackers.

Have a bucket full of water handy that can be used in case of any fire.