Natural, Fun & Safe Products For Kids and Teens! 
Why Cocomo?
Developed for Growing Kids & Teens
As children grow and mature, their skin & hair change and require special care. Baby care or adult products do not meet the daily hygiene requirements of a child of the age group of 4-16. Baby care products are too mild to clean the dirt, oil and sweat acquired all day at school & play. On the other hand, adult products often contain ingredients that are too harsh for kids and teens, and can lead to dryness, irritation, or even breakouts! Therefore, we have developed Cocomo specifically for older kids to suit their unique needs.
All-Natural & Safe
Cocomo is a fun and natural Indian personal care brand that combines safe & gentle ingredients with playful packaging and scents for a delightful experience for your kids
Our products are inspired by Ayurveda & are infused with premium natural ingredients like Coconut Oil, Olive Oil, Neem, Tea Tree Oil, Aloe Vera, Argan Oil, Jojoba Oil etc.
Our products do not contain Paraben, Sulfates, Phthalates, Formaldehyde, Mineral Oil, Silicon & other harmful chemicals.
Made By Moms, With Love!
Cocomo is designed and developed by a circle of passionate & concerned mothers, in consultation with an expert cosmetologist. As moms ourselves, we understand the importance of providing the best for our children and that's why we take great pride in creating products that not only keep our kids clean, but also bring joy to their daily routines. From bath time to bedtime, our products are designed to make life easier for both you and your kids. Trust us, your kids are in good hands with Cocomo.
Quality Testing & Industry Standards
At Cocomo,we are committed to using simple, time tested and effective natural ingredients for healthy skin, hair and body. Your child's safety is our prime concern. Safe products start with safe raw materials. That's why we source our raw materials from only those vendors that meet our rigorous quality and safety standards. Our products go through multiple tests to ensure safety and effectiveness. All our products are certified safe to use by Dermatologists and are FDA approved.
Cruelty-Free
"Be Kind To Every Kind" is our motto! All Cocomo products are 100% Cruelty-Free, implying that neither Cocomo products nor any of the ingredients used in Cocomo products are tested on animals. Being a cruelty-free brand is an important part of our mission to care for the world we live in and for those we live with, since our inception in 2018. We, at Cocomo, are committed to making a happy & safe planet for every living being!
Super safe standards
Traditionally-Inspired & Backed by Modern Science. We Put Nature In a Bottle.
What our customers say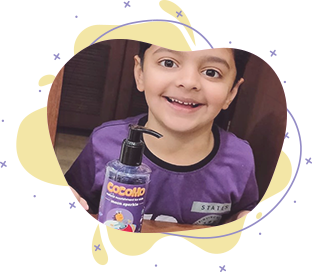 "His hair becomes so soft & shiny"
Cocomo Shampoo is so gentle for kids and is made up of ingredients like coconut oil, olive oil, aloe vera and neem extract which provides antioxidants, nourishment and deep conditioning. Just a small amount of it cleanses hair and scalp so well. With a fragrance so refreshing, the hair smells like heaven after wash. Hair texture is so soft and smooth since we are using this. Yazaan is already loving his new shampoo + conditioner.
...Ayesha
"Awesome products"
I've been using Cocomo products for quite some time now. Cocomo Shampoo is perfect for healthy hair for our kids. The gentle & nourishing shampoo effectively cleaned hair with added moisture by removing dirt and oil. It maintains the PH balance of the scalp & hair. The Cocomo lotion is perfect for my child's sensitive skin as it helps soothe and moisturize the skin. Impressed by the results. And the best thing is that the products are natural, safe & of good quality!
...Heena Sachdeva
"Softer & Frizz-free hair"
I was super impressed and happy to try out their Moon Sparkle Shampoo with Conditioner. This gentle and nourishing shampoo with the goodness of Coconut and Olive oil cleansed hair effectively without drying out my son's hair. The hair felt softer & frizz-free after wash. It does not contain any harsh chemicals, toxins or synthetic fragrance, which is a must these days! I've also used their Moisturizer + Sunscreen which again is awesome for kids. Smells great & gets absorbed quickly.
...Batul Munim
"Very gentle & effective"
I have been using their Earth Shine Body Wash and it's a really great product. It has an amazing scent, leaves skin soft and moist, no irritation in eyes, kills all the germs and kids love all the bubbles! Their Minty Sea Moisturiser is just another level of goodness. It can be used as a moisturiser as well as sunscreen. Having 15+ SPF makes it super safe to apply it on kids while going under the sun. These products smell heavenly and are very gentle yet effective on skin.
...Reshma Rajdev
"So good to to skin"
I've started using Cocomo Face & Body Wash recently. Besides many other benefits, the main thing that matters the most for the kids is it's smell, which is really pleasant and my daughter absolutely loves it. This body wash feels so good on the skin. It does not dry out the skin at all. Also, the pumping action is always safe when it comes to kids products, as kids tend to waste the product when it pours out easily with big mouth containers. I strongly recommend this to fellow mommies!
...Priyanka Verma
"Amazing fragrance & skin feels soft & healthy"
We are winter ready with our Cocomo Sunscreen and Moisturizer for kids SPF 15 - Earth Shine. This nourishing body lotion moisturizes and restores dry and sun damaged skin. It contains natural SPF 15 which protects the skin from harmful sun rays. It is a pH balanced lotion and my family absolutely loves it. The smell is great and the lotion is light-weight and non-greasy. The moisturizing effect is long-lasting and skin feels really soft & healthy after applying the lotion.
...Namrata Punjabi